Household cleaning products may contain harmful chemicals that are toxic to humans, animals, plants, and the environment. A green household should have these natural products on hand — baking soda, borax, distilled white vinegar, hydrogen peroxide, lemon juice, olive oil, vegetable-based liquid castille soap, and washing soda. Howdini.com demonstrates some uses of these ingredients and suggests natural substitutes for traditional cleaners. For those who don't have the time or desire to become mixologists, environmentally friendly products are available for purchase.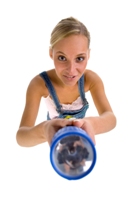 Are you literate in the world of home repairs? Or would you rather enlist the help of a pro? Take the Ultimate Home Repair Quiz and discover your do-it-yourself IQ. And while some projects should be left to the professionals, others can be tackled by the homeowners. How Stuff Works lists five that often come up and entail easy solutions. Here's what heads of households ought to know:
Prepping and painting interior walls
Fixing squeaking and sticking doors
Using caulk
Repairing a faucet washer
Unplugging a clogged toilet
Homeowners with shallow knowledge of the basics need not be alarmed. Online help is readily available at sites like How Stuff Works, the DIY Network, HGTV, and This Old House.
Whether you have a plot of land or a balcony, the possibilities for planting herbs, vegetables, and flowers are unlimited. Just about any plant that grows in the earth can be cultivated in a pot. This Lowe's video debunks the myth that small spaces constrain gardening. Think outside the box — containers, hanging baskets, raised beds, and vertical planting — and let your corner of paradise flourish this spring.